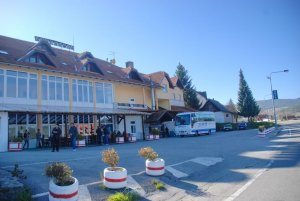 The Guest house "Sargan" is located at 17 km from the highway Belgrade - Zlatibor, in Kremna at the foot of Tara mountain, on the way to Mokra Gora (Sargan Eight and Mecavnik) and Visegrad.
The building is completely redecorated, and beside the outstanding cuisine, it offers high quality accommodation in comfortable rooms. Total capacity is 200 beds distributed 1/2, 1/3, 1/4 and 1/5 rooms, 1/6 duplex suites with bathroom and TV. Within the building there is a restaurant in ethno style, with the capacity of 80 seats, and there are also three more restaurants with 300 seats that can be used for seminars and family celebrations (weddings, birthdays), as well as a discotheque.
One part of it is designed to accommodate children on their field trips, outdoor classes and sports training. In the immediate vicinity of the guest house there is an ethno village "Tarabica kolibe" (Tarabic huts), that also includes a basketball court, an outdoor pool, fitness training hall and football field where children can enjoy the fresh air.
The guest house is located near the national park "Tara", and the distance from Zlatibor is about 30 minutes by car, as well as 10 km from the ski center ''Iver'' on Mećavnik.